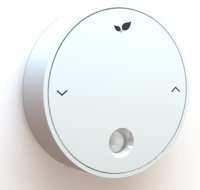 Ignite Smart Sensor (one included with each bundle deal)
This smart sensor will detect temperature, motion, and humidity to help improve the efficiency of your heating and alert you to excessive humidity that could lead to expensive repairs.
It has three money saving functions:
1. Temperature
The Smart Sensor will measure temperature, wherever you decide to position it, either on the landing or in the bedroom, enabling you to run your heating from either the thermostat, sensor or the average temperature between them. You can monitor the temperatures from your online detailed graph and track the history over a period 12 months.
2. Motion
Do your tenants forget to turn the heating off when they go out? The Smart Sensor can be setup on a two-level rule system, first set the period of no motion detected and the lower temperature set, for example, 1 hour of no motion detected turn the heating down to 18 degrees. After another period of no motion ask it to be turned down further or off, for example, 4 hours of no motion turn down to 15 degrees. Once motion is detected it will start following your heating setup as normal.
All these settings are fully customisable by you!
3. Humidity
If your tenants are drying clothes in the property and not opening the windows, Ignite Sensor can let you know! Track the humidity wherever the sensor is positioned which enables you to track on your online app and receive notifications when it reaches over your set maximum humidity level, either by push notification or email. You choose!
You can add up to 8 smart sensors for each thermostat enabling you to monitor and save money on your heating.